Master Organic Instagram Growth
Learn to attract targeted Instagram followers in order to enhance your brand and business. By the end of this course you will have mastered the Instagram platform for your business needs to gain real ROI.
What Do You Get From This Course?
Clear, concise knowledge of the Instagram Platform with real world examples of how to implement each of our data-driven techniques.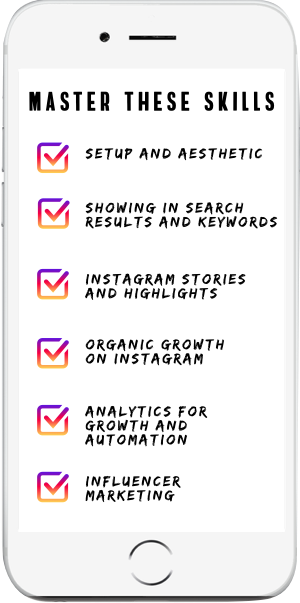 Grow Your Audience
Organically grow your audience through our proven methods.
Build A Loyal Brand
Build an audience in the right demographic for your brand and business.
Focus On Revenue
As a business, sales is your life blood, utililze the Instagram platform to generate lasting sales.
Automate Analytic Tracking
Learn how to interupt Instagram's analytics and how to automate analytics tracking.
What You Will Learn
Each section outlined below will come with location dependant, personal brand/influencer, and e-commerce examples.
Types of Instagram Accounts
Personal vs. Business vs. Creator Account
Instagram Profile Photo
Instagram Username
Instagram Title
Instagram Bio
Instagram Profile Buttons
Instagram Bio CTA
Instagram Aesthetic Lighting
Instagram Aesthetic Subject Matter
Instagram Filters
Show up in Instagram Search Results
How To Utilize Keywords in Your Profile
How to Utilize Instagram Hashtags
How to Utilize Location Tags
Utilizing Tagging Accounts
Creating Instagram Stories
Instagram Story Hashtags
Instagram Story Location Tags
Instagram Story Mentions
Instagram Story Stickers
Instagram Story Features
Instagram Highlights
Growth on Instagram
Posting Schedule
Liking Engagement Strategy
Commenting Engagement Strategy
Sharing Content Strategy
Engagement Schedule
Creating Shareable Content
Creating Direct Messages for Sales
Creating Direct Message for Customer Service
Understanding Instagram Analytics
Automating Instagram Analytics w/ Google Sheets
Google Analytics for Instagram
Influencer Marketing Courses Included with Purchase
Influencer Marketing for Influencers

Building an Influencer Niche
Organically Build Brand Relationships
Reaching Out to Brands for Brand Deals
Calculating Your Engagement Rate
Creating Influencer Media Kit
Pricing Your Work/Services
Upselling Your Serivces


Influencer Pricing Worksheet
Influencer Media Kit Template
Influencer Marketing for Businesses

Finding The Right Influencers for Your Business
Posting Requirements
Incentives for Posting
Analytic Reports for Influencers
Creating an Influencer Campaign


Influencer Campaign PDF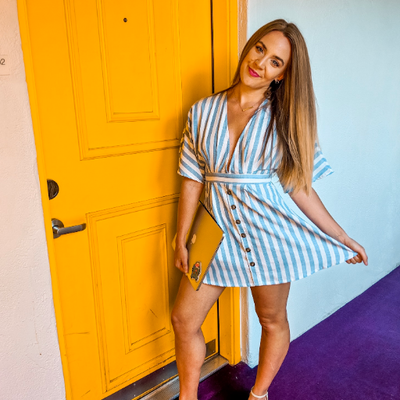 Brandy Morgan is a social media and marketing specialist who works with companies to elevate their brands online and turn those brands into revenue machines. Her knowledge extends to personal brand building, influencer marketing for businesses as well as influencers, and revenue generating and brand building technics for small to large businesses as well as personal brands wanting to reach that influencer status.

She has grown her own Instagram to over 50K followers using only these organic techiniques. Brandy has worked with brands such as Barbie, Microsoft, Intel and many more.

Brandy's mission with this course it to help personal brands, social media managers, and business owners take control of their presences on Instagram and utilize all of Instagram's unqiue features to grow their accounts and help grow their businesses.
Master the Instagram platform for business needs. Whether you are building a personal brand, managing social media accounts or operating a business, learn how to use Instagram to grow your brand, audience and revenue.

We walk you through setting up an account, all of Instagram's unique features, how to make sure your account shows in up search results, how to read and automate your analytics, how to sell on the Instagram platform, plus with Pre-Sale Purchase your receive two free Influencer Marketing courses, Influencer Marketing for Business and Influencer Marketing for Influencers.